Create custom tilesets from virtually any image! Make tilesets of friends and family, favorite sports logos, cute and cuddly pets, baby pictures, and more. Imagination is key with this powerful customization tool.
From the Game ribbon, chose Tileset Maker. This will open the Tileset Maker which allows for player-created custom tilesets to be created and edited.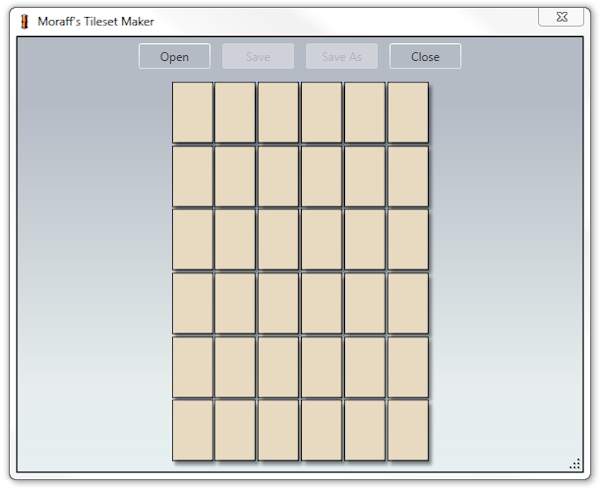 Open - Opens a player-created tileset. This can open a complete or partial set to be edited and saved.
Save - Saves the state of the currently open player-created tileset. This is especially helpful to continue creating a tileset at a later date.
Save As - Saves the current state of the open player-created tileset as a new tileset.
Close - Closes the Tileset Maker. If all 36 images have been added, the Tileset Maker will load the new player-created tileset into the game to play.
Click any blank tile to add a custom image. This will open a Window to the user's Pictures directory on their computer.
Browse to where the pictures to use are located.
Select a picture to use. This will open the Tileset Selector dialog showing the chosen image:



Use the + and -, or a mouse scroll wheel to zoom in and out of the image.



Use the arrows inside the circle to move the image in any direction once zoomed in.



Use the center circle to bring zoom all the way out.




Drag the cursor inside the image shown to select a tile-size portion of the image.



Once the tile selection is determined, click Select to add it to the custom tileset.



Repeat this same process for the next 35 images.
Save the tileset.
Click close to load the tileset into the game.
Saved player-created tilesets are located in the Player Folder found by Browsing Tilesets.